Dit evenement is voorbij.
GreenAssGarden - Garden Day & Skill Sharing Workshop 'Creating floating plant beds'
Between 12.00 and 19.00 you're welcome to help in the gardens of Het Groene Veld.
Coordinators of this garden day are Erica and Cjara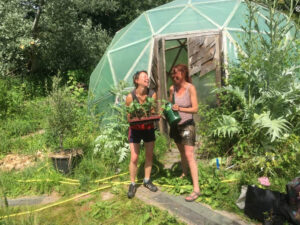 =======
Skillsharing workshop voor vandaag;

Inleiding tot Chinampas (of het creëren van drijvende plantenbedden), met Aixia en Nancy

De Azteken creëerden de oudst bekende vorm van aquaponics, door drijvende bedden in een meer te maken, zodat planten konden profiteren van de uitwerpselen van vissen. In een van de bassins op Het Groene Veld willen we een aantal van die perken realiseren op een frame van wilgentakken.
Vandaag wordt een begin gemaakt met ze te bouwen. Dit project zal deze zomer meer sessies omvatten op verschillende dagen, nader te bepalen tijdens deze introductie-dag.


This skill sharing workshop will start at 17.00

So... Bring some money along for the costs of materials, food and a GreenAssGarden donation.
Location: Outside at the green dome in the GreenAss(veggie)Garden
Make your reservation here: greenassgarden@gmail.com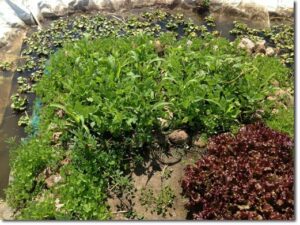 ======

The Green Ass Garden is consisting of three parts with different functions:
In the Vegetable garden with the Geodesic Dome as a greenhouse, we grow more rare veggies from different cultures from the seed. In development is the pigment or dye' plant bed. Edible wild plants are all around and grown as well e.g around the little pond.
In the Food Forest border, wild medicinal plants are growing together in groups which offer similar health benefits. Also edible shrubs, trees and mushrooms live together. Partly the mushrooms can clean polluted soil all over the Slibvelden. A sensory bed with crazy tastes, structures and looks is in development
On Het Groene Veld, the area around the water basins is in development as an edible park landscape. On Hugel beds, veggies for the Machinegebouw [=> Machine Building] kitchen are grown and edible shrubs and trees are planted as well as "rescued" ornamental plants who find a new home here.
In all of the areas, we play together with the existing ecology of the land. We also love the wonder and surprise in sustainable experiments and green arts.
'Skill sharing workshops' vinden vooral plaats in de zomermaanden en zullen worden aangekondigd in de agenda.
Do you want to help out? Pass by on Friday afternoon or send an email to: greenassgarden@gmail.com