Dit evenement is voorbij.
Program Nordic Wave
18 March @ 19:00

-

19 March @ 04:00
From Tropical Wave to Nordic Wave  – Fundraiser
Saturday March 18 2023
from 7 PM to 3 AM
A ADM noord Community project
19:00 – 21:00:
projection of past Guajira Mission
Doc Ketamer (It), KML Record, Hiphop Rap
21:00 – 3:00:
DJ's : Eris – Subaba – Emel – Majestic – Drywood23 – Mc Noia – Polaf – Teket + fireshows + visuals
Entrance donation (suggestion 10 euro)
(18+) Respect our neighbours!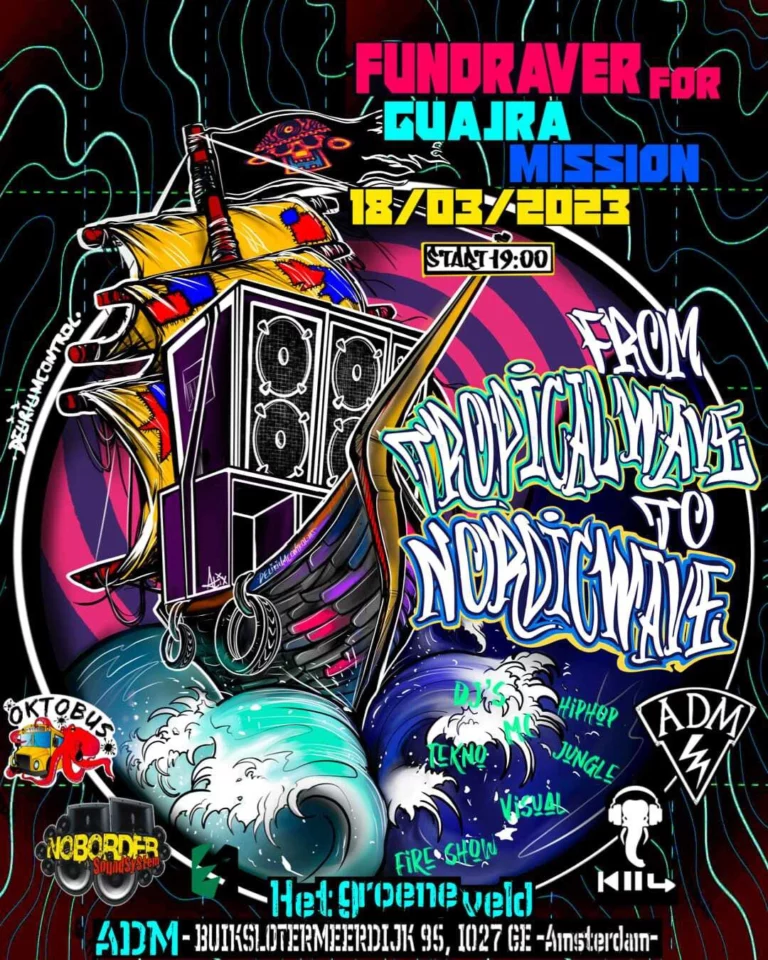 The story of the Guajra Mission begins way back in 2010. We traveled with our trucks through Colombia, Venezuela, Brazil and Peru 'where we experienced different ways of relating and sensitizing ourselves with the social processes of the communities we visited. Guajira, without a doubt, has remained in our hearts.
All of this inspired us to do something more for these communities. La Guajira, a wonderful desert landscape, is inhabited by the indigenous Wayuu, who for centuries have survived the hostilities of this territory. For years the Wayuu people have suffered from the plundering of their resources and their lands have been exploited by foreign companies with the consent of the Colombian government. This whole situation has brought these lands to the limit of survival by removing access to water and depriving them of food sovereignty; furthermore, the economic resources generated by the industries have not been and still are not reinvested in the territory,
as leaving Guajira in a state of neglect and in the hands of corruption. For all these reasons we have developed different humanitarian projects, mainly in Guajira. In 2016 we managed to deliver filters to some communities to make the rest of water in the area drinkable and, through our musical events, we were able to bring drinking water, school and medical supplies, food, art and entertainment. These were the goals of our next missions!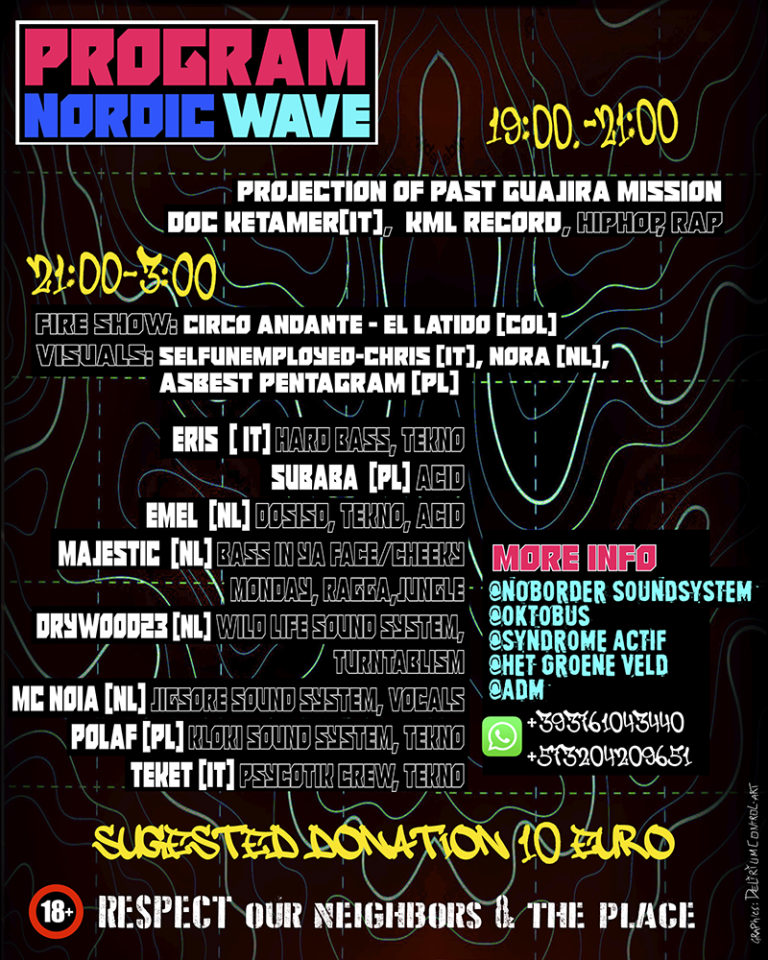 In 2018 the collaboration between various European collectives begins (Kopi in Germay, Bikewars, Adm in Holland are examples) to have a wider audience and give visibility to what for us has been a beautiful path and make us participate in what we were doing more possible people. The result was the involvement of many supporters and the Tropical rave wave vol 1 bring people to help us and this made everything much more meaningful and productive.
With the experience accumulated over the years we have pushed towards new territories not far from the Guajira desert up to the Sierra Nevada of Santa Marta, a magical territory full of natural resources, which, despite having suffered war and armed conflicts for many years, managed to survive.
Inspired by the local communities of indigenous Kogui (natives of the Sierra Nevada) we decided to create Finca Sin Fronteras, a life project that brings us back to the essentials, a return to origins, protecting nature through permaculture and learning from the "Kagabba" culture. Today we are able to carry out educational and low environmental impact projects.
In the face of new world changes and humanity on its knees due to the pandemic, we feel the need to take on new challenges and find new ways to prepare for the changes of the future. It is here and now that we have the opportunity to generate innovative ideas in order to share the value of self-sustainability and community empowerment with local people.
The next project with the Wayuu communities will take place after the Tropical Wave Rave vol. 4 in April 2023. For further information: Noborder Soundsystem, Syndome Aktif Association, Finca Sin Frontera, Oktobus Travelers.